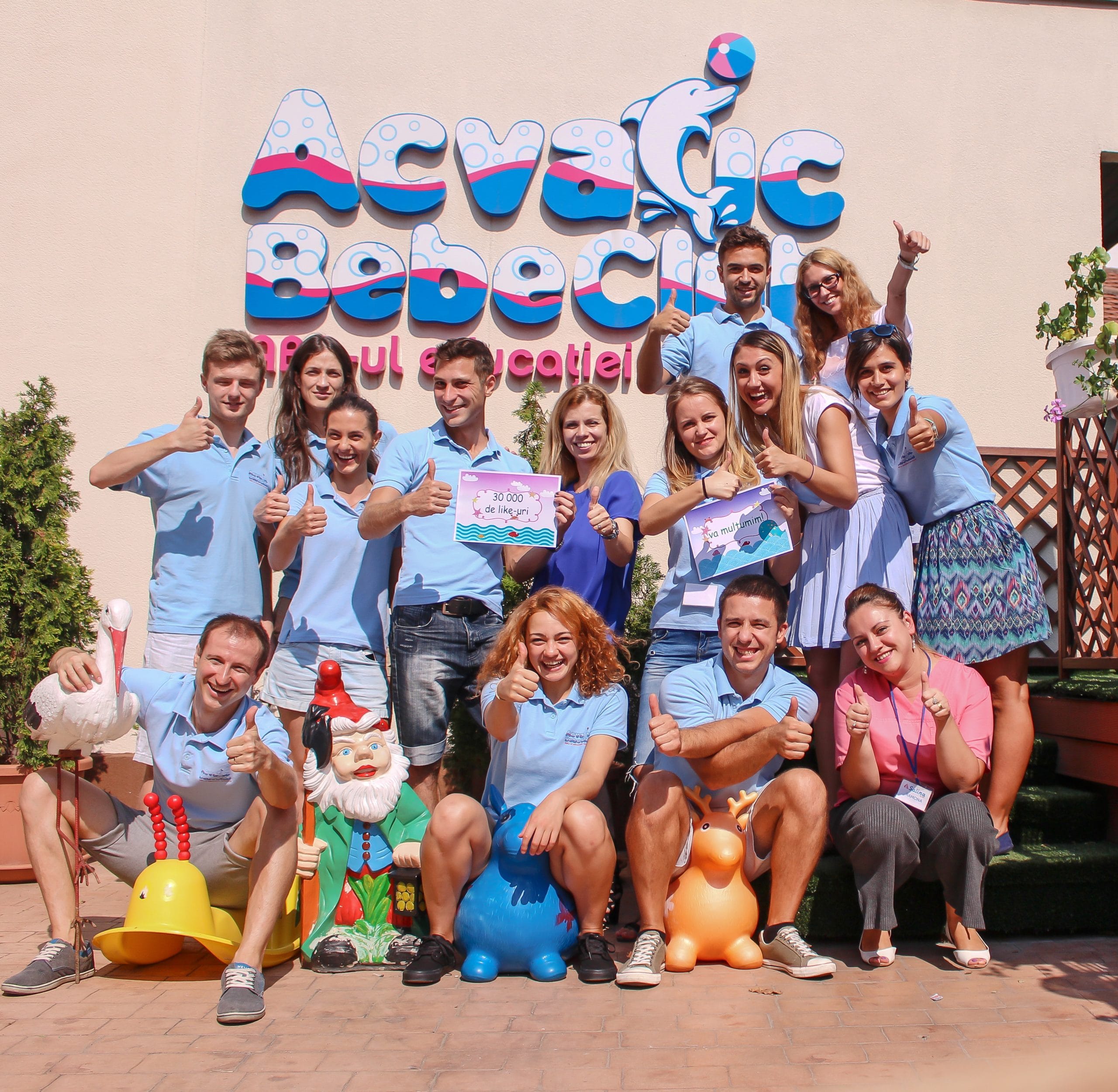 Acvativ Bebe Club

your partner in education and fun
For almost 8 years, over 2500 have participated in our aquatic education courses. They played and had fun, bonded and formed friendships, and, of course, have learned how to swim, jump and dive, and even win small competitions against their instructors. The joy the little ones felt and the confidence the parents showed us have motivated us to develop and perfect over these years or own method of teaching, adapted from every child that has been with us.
In this process, we are constantly supported by a team of specialists consisting of swim instructors, psychologists, and pediatricians that help us adjust and harmonize our programs constantly, which are then put into practice by a team of Sports and Physical Education or Physical Therapy graduates, or Professional Athletes.
We have invested in high-quality educational materials, high-performance water purification installations, arranging a safe and friendly space, and implementation of safety and hygiene protocols so that the parents and little ones can benefit from a positive experience within our club.
Beyond the technical aspects, what motivates us every day is the children's smiles, their joy every time they reach our doorsteps, the confidence the parents show us, and the friendships that have formed throughout the years.
Studies have shown that participation in swim lessons have reduced drowning risk in children aged 1-4 by 88%.
ABC Method
Objectives
ABC Guarantee
Our instructors, though their professional training and empathy towards children, stimulate their curiosity and creativity, through a personalized plan, permanently adapted to the evolutionary rhythm of each child.
Each session plan consists of a clear three-part structure, with simple activities, created by a team of psychologists.
Through play, the child learns movement, imitating what is around him, and also through play we create a relaxing, safe, and confidence-inspiring atmosphere that is needed in starting the learning process.
Our instructors permanently communicate with the parents about the objectives and personal expectations, methods of teaching, and also about their child's personality.
Swim lessons for babies and children over here at ABC follow these objectives:
Satisfying the need for movement in babies and toddlers, which develops their psycho-motor skills

Harmonious physical and mental growth and development

Improving the functional capabilities of the cardiovascular, respiratory, and locomotor systems

Improving the overall capacity for effort

Training of motor skills and abilities

Development in social interaction, these sessions are the first educational experience outside the family environment for many babies and toddlers
We are confident in our method and our ABC team, therefore we guarantee success with our swimming lessons.
Each baby that starts our aquatic education program before 6 months of age, with a weekly attendance, will gain the following abilities:
Successive dives by 12 months

Moving independently with floaties by 18 months

Moving independently over a width of the pool by 30 months

Acquires the technique of the first swimming stroke by 4 years old
If not, ABC offers gratuity until all of the above are achieved.
Swimming lessons offered annually
Discover the first book about aquatic education in Romania!
Our instructors, though their professional training and empathy towards children, stimulate...